Aziza
1991/93
Tracks:
01. Chargah
02. My Ballad
03. Exprompt
04. Quiet Alone
05. Inspiritation
06. I Cannot Sleep
07. Oriental Fantasy
08. Moment [Short Variation, Based on a Theme by Michal Urbani]
09. Blue Day
10. Character
11. Tea on the Carpet
12. Cemetery
13. Reflection
14. Aziza's Dream
15. Two Candles
Aziza Mustafa Zadeh - Grand Piano / Vocal
♫☆`*♥¸¸.•*¨*•♫☆`*♥¸¸.•*¨*•♫
♫☆`*♥¸¸.•*¨*•☆♫`*♥¸¸.•*¨*•♫
Aziza was born on December 19, 1969, in
Baku
, the capital of
Azerbaijan
, into an immensely musical family: Her father, Vagif Mustafa Zadeh, an established Jazz legend throughout the former USSR, of whom BB. King said "people call me the king of the blues, but if I could play the piano like you do, I would call myself God," was a pioneer in as much as he was the first musician to incorporate the traditional music of his homeland, known as "mugam" into popular Western Jazz music. Mugam, itself a highly improvisational style, refers to a modal system of music of which there exist over 70 types, all defined by their specific pattern of intervals, range, as well as direction of melodic movement and rhythm. With her father as architect of the Azerbaijani Mugam Jazz Movement, and her mother Eliza Mustafa Zadeh (in Soviet times known as Eliza Khanom), herself a professional singer and one of the first women to sing in the new Mugam Jazz style, it was only a question of when and how Aziza would express her musical heritage, never an if...
Still, she came a long way from the headstrong child fascinated by any kind of art-form (be it music, dance or painting, but bored and annoyed by her early musical teachers, who demanded more commitment to her practicing) to the disciplined professional pianist/singer/composer. Not that she would have lost any of her self-determination. She always liked to have things her way, a philosophy that did not necessarily go down well with her teachers at Baku conservatory where she received classical piano training. While her all to obvious talent was never under dispute, her handling of musical icons was: neither Aziza's trangressive "additions" to Beethoven Sonatas, nor her improvisations on Bach fugues were very much appreciated. "I'm sure Bach would have agreed with it," she said with a smirk at an interview. It was in this same self-confident fashion that she would later on recruit Jazz celebrities such as Al Di Meola, Stanley Clarke, Omar Hakim or Bill Evans as supporting guests on her CD Dance of Fire. The fact that they all came to play her music is not a small achievement for a then 25 year old, not exactly well-known musician. Asked whether she was in the least intimidated by the famous lot she replies: "No. Not at all. In fact, I think I intimidated them a little. It took a lot of time to record and the music was very different. We had to stay up long hours and even then we recorded for the best part of a month."
Aziza started playing the piano when she was 3 years old, gave her first concerts with 14, and won her first international prizes with 17."It would have been a sin not to use this god-given gift," she muses. Next to God her parents are Aziza's most important musical leaders, especially her father. He tragically died at the early age of 39 of a heart attack after a performance in Uzbekistan, an event both devastating and strangely motivating for the ten-year old girl: With Vagif's death she not only lost her father but a source of inspiration and a gifted mentor for whose unceasing creativity Aziza continues to have the highest appreciation. "He was a genius. A true genius." Vagif continued to influence his daughter beyond his death it seems. Commenting on his death she muses: "For me, my father has never died. He simply has left this earth. I still feel his energy surrounding me. Sometimes, it's like his soul is flying around me, you know. There are times when I give concerts that I feel his presence so strongly, it's almost tangible. It's like I could reach out and touch him." Little surprise that her father is omnipresent in Aziza's work, be it in the form of one of his compositions or in a song dedicated to him.
After her husband's death Eliza Zadeh gave up her own career as a singer and invested her talent and professional knowledge into her daughter's musical education. In so doing she continued a tradition of musical collaboration that had formerly existed between herself and her husband. Eliza not only directed her daughter's vocal training but would later on become her manager, co-producer and confidante in all things regarding Aziza's own career.
In 1989 Aziza left her home Azerbaijan for Germany. At present she lives in Mainz...
The first CD bears as its title the name of the artist, as simple as that.
Aziza
presents 15 compositions of her own, where she distinguishes herself primarily as a pianist. These are 15 pearls on a string that need to be cherished one at a time. Although the tracks display an astonishing diversity of character and three of them incorporate her singing voice, the fact that these are all solo piano pieces, and not a small number at that, brings with it the danger of surfeit. The same thing happens if you listen to the entire Goldberg Variations in one go. One needs to give those tracks enough room to expand and display their nature.
Those are not easy-pleasy compositions: clearly, this CD is the most demanding for the listener, since we have become unaccustomed to listen to music that is not technically enhanced or digitally remastered, all the more if it is not "conventional" music.
But if we give it some time there is much to be discovered on this CD, and the more I listen to these tunes the better they get! The track called Inspiration for example shows us how Aziza uses her voice and how she "thinks" musically: her scat-like singing takes up the melody her right hand plays, which is--so typically for mugam--forever moving it seems. To every note there is attached a little trill, an ornament, so as to never let a note just be "plain". And she sings as fast as she plays! Her astonishing vocal abilities are amply displayed in the "Short variation," based on a theme by Jazz violinist Michal Urbaniak, Moment. (Given her singing technique I bet she would be a brilliant wind instrument player). The track Oriental Fantasy shows how Aziza plays with the cliché of Western conceptions of "oriental" music: well aware of the strangeness of some of her harmonies to Western ears and her Azerbaijani origins that make her prone to become the "exotic other," the "Oriental Princess of Jazz" as she has been called, she quickly lets go of supposedly typical oriental harmonies and takes us on a much more idiosyncratic and unconventional musical journey.
On the whole, one can say that the amount of "traditional" musical matter is much less prominent than in later productions, and that her compositions are much more avant-garde and jazz-induced. In fact, Aziza draws from the entire texture that the world of music provides for her, and her comment on the initial track Quiet Alone must be understood as a general practice for Aziza's musical understanding. She writes: "This piece was written by my father, interpreted through the prism of my soul. This is a dedication..." In this sense musical allusions are present everywhere and her play is as much a dedication as an exploration of her own personal universe. Tea on the Carpet and Exprompt bear Brackeenesque traits, pieces such as Aziza's Dream are reminiscent of Latin-American harmonies and rhythms, while Character seems to echo Bach, and in what has become the epitome of the art of Jazz improvisation, its variation on a simple, straightforward theme--in superior style--combines modernity with its classical musical heritage. On My Ballad, Aziza for the first time sings in Azeri, exhibiting the mysterious, enchanting beauty of her mother-tongue.
Aziza Mustafa Zadeh is certainly an impressive first work, giving us a pretty clear idea where the immense talent and creativity is going to take this young artist, versed in both technical and expressive skills, acting as composer, pianist as well as singer: straight to the top of the Mount Olympus of Jazz music!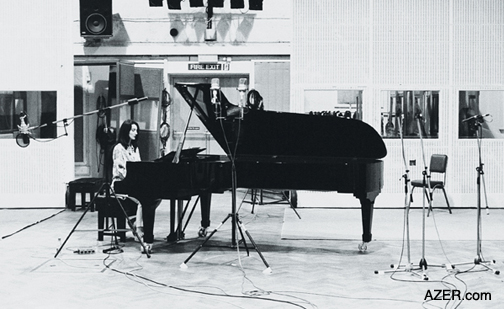 ♥
listen,
listen,
listen.
♫