Almir Sater
Caminhos Me Levem
1996
Tracks:
1. O vento e o tempo Ouvir (Paulo Simões, Almir Sater)
2. Caminhos me levem Ouvir (Paulo Simões, Almir Sater)
3. Brasil poeira Ouvir (Almir Sater, Renato Teixeira)
4. Floresta do arco-íris Ouvir (Almir Sater)
5. Pagode bom de briga Ouvir (Paulo Simões, Almir Sater)
6. Milhões de estrelas Ouvir (Paulo Simões, Almir Sater)
7. Viola fora de moda Ouvir (Capinan, Edu Lobo)
8. Cabecinha no ombro Ouvir (Paulo Borges)
9. Sodade matadeira Ouvir (Dorival Caymmi)
10. Mochileira Ouvir (Geraldo Roca)
♫☆`*♥¸¸.•*¨*•♫☆`*♥¸¸.•*¨*•♫
♫☆`*♥¸¸.•*¨*•♫☆`*♥¸¸.•*¨*•♫
Almir Sater
brings to us the sweet music of the Brazilian wilderness of
Pantanal
, one of the most beautiful parts of the Earth, most of it still untouched. All the mystery, the starry nights, simple country love, the lonely train crossing the plains and the little boat sailing down the mighty river, all these images and draems, that's what the music is all about. All through his voice and the voice of his viola (the brazilian ten strings guitar). Great music!
~ Alexandre D. Tenorio
Muita paz.
Canções com ritmo , que fazem pensar no mundo em que vivemos, na vida e nos acontecimentos... Lindos versos, poesia, excelente para românticos... Alguns ritmos lembram o velho oeste. As instrumentais fazem viajar a um mundo inexistente... cheio de paz.
~ Marianna Degen Alves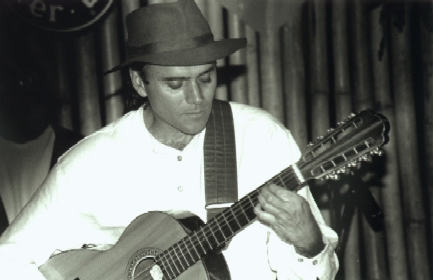 Almir Eduardo Melke Sater

(Campo Grande, 14 de novembro de 1956) é um violeiro, compositor, cantor e ator brasileiro.

Born in Mato Grosso do Sul (CW), he used to play the guitar as a child, but only discovered the viola caipira (an adapted acoustic guitar, smaller than the usual 6-string, used in the countryside) in Rio de Janeiro, where he was studying Law. Sater gave up becoming a lawyer and, instead, decided to take guitar lessons with

Tião Carreiro

. Later, he returned to Campo Grande (capital of Mato Grosso do Sul) and lined-up the duo Lupe & Lampião. In 1979, he moved to São Paulo, becoming a back up musician to singers like Tetê Spíndola and Diana Pequeno. His debut album, "Almir Sater", was released on Continental in 1981, followed by "Dona", on RGE. Three years later, he put the Comitiva Esperança together, touring the pantanal region and researching the music from the area. After releasing other albums and playing the Free Jazz festival, in 1989, Sater played a part in a soap-opera, which helped projecting his music. He released "Terra dos Sonhos" in 1994...
♥
Música Caipira (Brazilian Country Music)
Brazilian countryside on viola strings
Rosa Nepomuceno
The catholic chants brought by Jesuits were mixed with Portuguese tunes and the dance and music of the Indians, original landlords of the newly discovered tropical country. Many styles emerged from that mixture, especially in the southeast, then in the south and center-western regions, integrating what would be known as "música caipira" (literally, country music). The viola, a Brazilian type of small, acoustic guitar, was carved from tree trunks. In the early days, the strings were made out of animals' guts; later, they were switched to wire, and through the years, the viola has been testified as the basic instrument for the countryside style. Caipira is one among many words emerged from the incorporation of tupi and other indigenous idioms with Portuguese in colonial times. When broken down, we have caa (bushes), pir (something that cuts) and cururu, which is how the Indians attempted to say cruz (cross).
Missionaries moved
To prove their love
To the natives that feared
The foreign invader
But hearing the mellow sound
Of a weeping viola
The careful primitives
Leaned over to enjoy it.
(Assim Nasceu o Cururu, Cap. Furtado e Laureano)

...Through the 90s, the pop-sertanejo (tailored for foreign markets) and the neo-caipiras (educated musicians interested in rescuing the original roots of the style) managed to live in harmony.
The latter have developed their own independent labels and show circuits. The key artists for the movement are
Renato Teixeira
and viola expert
Almir Sater
. Currently,
Roberto Corrêa
,
Ivan Vilela
,
Pereira da Viola
and
Chico Lobo
(from Minas Gerais), and
Miltinho Edilberto
(from São Paulo) are some of the greatest caipira music performers/composers.
...read the whole thing
here
Roberto Correa
Viola Caipira