2000

Tracks:

01. Nhanerãmoi'i Karai Poty - Aldeia Jaexaá Porã, Aldeia Morro da Saudade, Aldeia Rio Silveria, Aldeia Sapucai
02. Gwyrá Mi - Aldeia Morro da Saudade
03. Mãduvi'ju'i - Aldeia Jaexaá Porã
04. Xekyvy'i - Aldeia Sapucai
05. Nhanderuvixa Tenondei - Aldeia Rio Silveria
06. Nhamandu - Aldeia Morro da Saudade
07. Mamo Tetã Guireju - Aldeia Jaexaá Porã
08. Oreru Orembo'e Katu - Aldeia Sapucai
09. Oreyvy Peraa Va'ekue - Aldeia Rio Silveria
10. Xondaro'i - Aldeia Morro da Saudade
11. Pave Jajerojy - Aldeia Jaexaá Porã
12. Nhamandu Miri - Aldeia Sapucai
13. Ka'aguy Nhanderu Ojapo Va'ekue - Aldeia Rio Silveria
14. Oreru Nhamandú Tupã - Aldeia Jaexaá Porã / Aldeia Morro da Saudade / Aldeia Rio Silveria / Aldeia Sapucai
15. Xondaro - Ñande Reko Arandu

♫☆`*♥¸¸.•*¨*•♫☆`*♥¸¸.•*¨*•♫
♫☆`*♥¸¸.•*¨*•☆♫`*♥¸¸.•*¨*•♫
Para saber mais sobre as canções:

As músicas são cantadas por grupos de crianças de quatro aldeias Guarani: Sapucai, na cidade de Angra dos Reis; Rio Silveira, em São Sebastião; Morro da Saudade, na cidade de São Paulo e Jaexaá Porã, em Ubatuba. As gravações foram realizadas na aldeia Jaexaá Porã.
Todas as músicas têm por tema a espiritualidade. Os índios Guarani contam que as crianças são puras e seu Deus, Nosso Pai Nhanderu, envia esses cantos diretamente a elas.
♫
Contemporary composers take the music of the Guarani Indians into modern studios, combining a children's chorus with sleek instrumental backing. The music is kind of "simple," compared to other Brazilian styles, but there's a sweetness and sincerity to this project that makes it kind of nice.
~Joe Sixpack
Música de los indios guaraníes Ñande Reko Arandu - Memoria Viva Guarani
This compilation features music and vocals from the jungle-dwelling Guarani culture of Brazil. Unlike the sophisticated sounds of Brazilian composer Antonio Carlos Jobim, or the tasteful explorations of such artists as Trio da Paz or bassist/composer Jorge Degas, this album is more of an ethnomusicological field recording, documenting authentic folk traditions in their purest forms. Children sing many of the songs, accompanied by sparse indigenous percussion and stringed instruments. The song forms are often simplistic, like much of the world's folk music, with unencumbered arrangements and vocals sung in unison. But this articulate recording goes far in capturing a peoples' authentic musical tradition, and hence is important at the very least, for its anthropological and cultural contributions. If only the label had included an English version of its extensive liner notes, (along with its quaint children's drawings), listeners would be even more enriched.
~Robert Kaye

MÚSICA

- Outra prova de que a cultura indígena está sendo preservada é a música.
Em fevereiro de 1999, a Boa Vista, junto com outras três aldeias guaranis de
São Paulo e do Rio de Janeiro, lançaram o CD Ñande Reko Arandu

(Memória Viva Guarani)

, composto de canções infantis indígenas, algumas de temática religiosa.
Para manter a originalidade, o CD foi gravado por um grupo de 120 coralistas e músicos das aldeias indígenas, em um estúdio móvel. Todos os instrumentos utilizados também fazem parte da tradição guarani, como chocalho, violão de cinco cordas, rabeca de três cordas e tambor. O sucesso atingido com o CD rendeu aos guaranis apresentações por todo o país - e o reconhecimento internacional. Em julho, parte dos integrantes do grupo participa do Festival d'Eté de Nantes --na França -- , que este ano escolheu como tema Brasil e culturas lusófonas.
A primeira prensagem do CD saiu com 5.000 cópias e esgotou em dezembro de 1999. No início deste ano, outras 5.000 foram colocadas à venda. Uma segunda coletânea já vem sendo preparada pelas aldeias.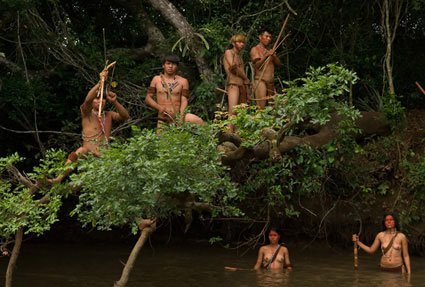 ♥