Popular Traditions of Pakistan
1995
Tracks:
1. Malhar - Misri Jogi
2. Dardan Di Mari - Multan Local Dance Party
3. Mera Ranjhna - Multan Local Dance Party
4. Missreeza - Zarsanga
5. Baran Shpa - Zarsanga
6. Gahrooli - Misri Jogi
7. Sartiyoon Awheen Ta, Wanjo Ri Wanjo La - Rubeena Haidiri
8. Yaar Dadhi Ishq Aatish Laaee Hai - Rubeena Haidiri
9. Jugni - Bashir Lohar
10. Kohayari - Urs Bhatti
11. Rano - Urs Bhatti
12. Maheaa - Fareeda Rehman
13. Kohayari (2) - Misri Jogi
14. Punjabi Song - Mehr And Sher Ali
♫☆`*♥¸¸.•*¨*•♫☆`*♥¸¸.•*¨*•♫
♫☆`*♥¸¸.•*¨*•☆♫`*♥¸¸.•*¨*•♫
The CD consists of 14 tunes and songs, 6 of which are Sindhi and 3 Seraiki (a dialect of Sindhi). The other 5 are Pushto, Punjabi and Urdu and obviously of a different character.

Five of the Sindhi tunes on this CD are instrumental songs by Jogis of
Thar -- the murli, played by Misri Jogi, and the related al-ghozo,
played by Urs Bhatti (both wind instruments use the circular breathing
technique). As the accompanying notes relate: "the jogi is
responsible for the removal of snakes from inhabited places and
perform pujas, or blessing ceremonies, to drive away evil spirits.
They also milk the snakes for venom, which they sell for use in
medicines."

Misri jogi's favorite snake is the black cobra which he says is the
easiest to charm because of it being "mad about music".
The notes observe:

"The murli is played with circular breathing, and this facilitates the
trance state that Misri goes into. He said that, when in this state,
he occassionally feels he is meeting the great spirtual leader of the Jogi, Gogo Chuhan, to whom the opening piece of music in performance always refers."

Urs Bhatti is thought to be the finest alghozo (dadaru joro) player "from Puckachang to Jaipur". He is the only living student of the legendary jogi Misri Khan Jamali, the late grandmaster of alghozo, who is widely acknowledged to be the greatest player in this century (saiin Jamali became famous in the early 1940s). Urs Bhatti plays two Sindhi raags (compositions), Kohiyaari and Rano, on this CD. As usual with the Western CDs, the four minute pieces offer only a glimpse of a grand peformance but clearerly this music has the power to enchant not only snakes but bipeds too (actually, even our family dog, who has gone virtually deaf in the normal human voice range, goes and sits next to the speaker when saaiin Bhatti's song comes on). I think just these two pieces alone are worth the price of the CD.

Two of the songs (one in Seraiki and one in Sindhis) are by Rubeena Haidiri who hails from Larkano, Sindh. The notes accompanying her music, written by Professor Douglas Leppard, observe that she is a
disciple of the Sufi Laal Shahbaz Qalander ("dhamaa dham must Qalander.."). Rubeena is a virtuoso player of the single-stringed Yaktaro and the first woman to achieve fame playing that instrument.

One of the songs she sings is Shah Latif's
"Surtiyuun awhiin ta, wanjo ri wanjo laa,
muhinjo re pechu punhala saan.."
Friends you may go as you will
my commitment is to my 'punhali' [beloved]
It is rendered in a clear, powerful voice and with considerable depth
of emotion.
The other songs on the CD include two sufi songs in Seraiki sung by a
Multani group which includes two Shenaaiis (a type of flute), two
dhols (drums) and chimta tongs. These songs are clearly in a style
familiar to Sindh.
The CD also features a Qawali (North Indian Sufi music style
popularized in the West by Nusrat Fateh Ali), a ghazal (North Indian
Urdu music) and two Pashto folk songs. These five pieces share little
with Sindhi music but can be appreciated on their own terms.
sadaiin gaddu,
Gul A.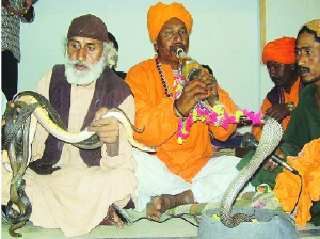 ♥